08/03/2020
Effective 8/3, Fultondale Office will no longer be accepting applications for (Brookside Village, Fultondale Village, Hickory Grove & Red Hollow)
UPDATE - Effective 8/3, Fultondale Office will no longer be accepting applications for (Brookside Village, Fultondale Village, Hickory Grove & Red Hollow)
Starting July 14, 2020 JCHA will be Taking Applications for Public Housing Fultondale Communities.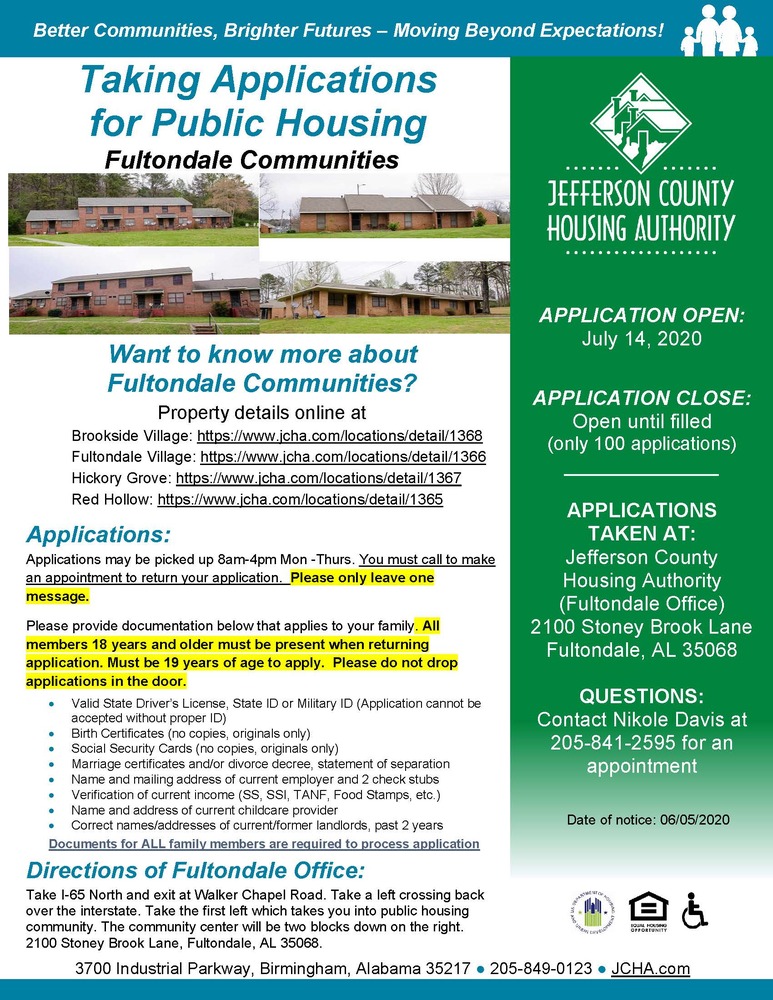 Click here to view/download the flyer.
Want to know more about Fultondale Communities?
Property details available online:
Brookside Village
Fultondale Village
Hickory Grove
Red Hollow
Applications Open July 14, 2020:
Applications will remain open until filled (only 100 applications). Applications may be picked up anytime between 8:00am - 4:00pm Monday through Thursday or download an application online at jcha.com/apply-now. You must call to make an appointment to return your application. Please only leave one message.
Please provide documentation below that applies to your family. All members 18 years and older must be present when returning application. Must be 19 years of age to apply. Please do not drop applications in the door.
Valid State Driver's License, State ID or Military ID (Application cannot be accepted without proper ID)
Birth Certificates (no copies, originals only)
Social Security Cards (no copies, originals only)
Marriage certificates and/or divorce decree, statement of separation
Name and mailing address of current employer and 2 check stubs
Verification of current income (SS, SSI, TANF, Food Stamps, etc.)
Name and address of current childcare provider
Correct names/addresses of current/former landlords, past 2 years
Documents for ALL family members are required to process application
Directions to Fultondale Office:
Take I-65 North and exit at Walker Chapel Road. Take a left crossing back over the interstate. Take the first left which takes you into public housing community. The community center will be two blocks down on the right. 2100 Stoney Brook Lane, Fultondale, AL 35068.
Jefferson County Housing Authority (Fultondale Office):
2100 Stoney Brooke Lane
Fultondale, AL 35068
Questions?
Contact Nikole Davis at 205-841-2595.
---
(In compliance with Section 504 of the Rehabilitation Act, Jefferson County Housing Authority will provide reasonable accommodations for persons with disabilities ONLY at 3700 Industrial Parkway.)