03/10/2020

3/26/20 Taking Applications for Warrior Public Housing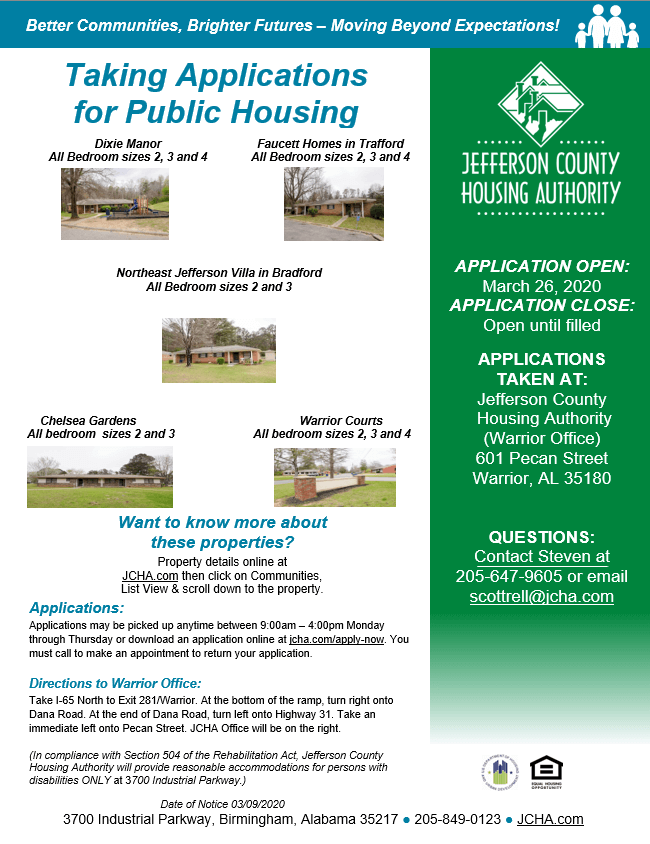 Click here to view/download the flyer.
Starting March 26, 2020 JCHA will be Taking Applications for Public Housing
Dixie Manor
All Bedroom sizes - 2, 3 and 4
Faucett Homes in Trafford
All Bedroom sizes - 2, 3 and 4
Northeast Jefferson Villa in Bradford
All Bedroom sizes - 2 and 3
Chelsea Gardens
All Bedroom sizes - 2 and 3
Warrior Courts
All Bedroom sizes - 2, 3 and 4
Want to know more about these properties?
Property details online at:
JCHA Properties
Applications Open March 26, 2020:
Applications will remain open until filled. Applications may be picked up anytime between 9:00am - 4:00pm Monday through Thursday or download an application online at jcha.com/apply-now. You must call to make an appointment to return your application.
Directions to Warrior Office:
Take I-65 North to Exit 281/Warrior. At the bottom of the ramp, turn right onto Dana Road. At the end of Dana Road, turn left onto Highway 31. Take an immediate left onto Pecan Street. JCHA Office will be on the right.
Jefferson County Housing Authority (Warrior Office):
601 Pecan Street
Warrior, AL 35180
Questions?
Contact Steven at 205-647-9605 or email.
---
(In compliance with Section 504 of the Rehabilitation Act, Jefferson County Housing Authority will provide reasonable accommodations for persons with disabilities ONLY at 3700 Industrial Parkway.)