02/07/2023
Feb 21st Bessemer Taking Applications for Public Housing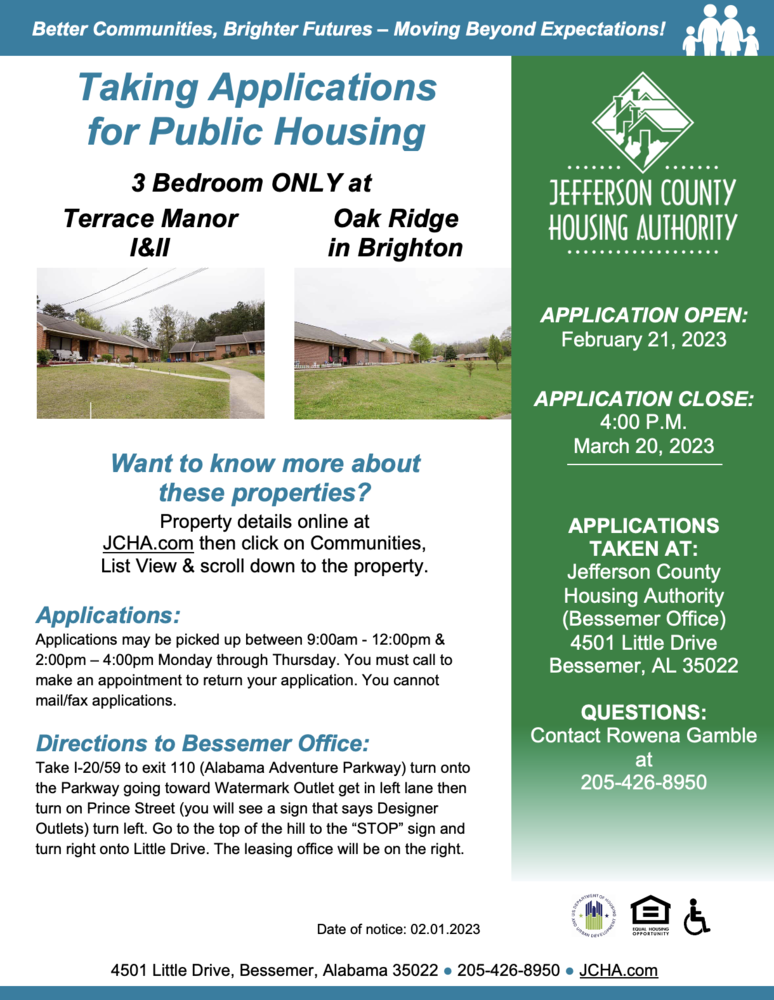 ---
Better Communities, Brighter Futures - Moving Beyond Expectations!
Taking Applications for Public Housing.
3 Bedrooms ONLY at:
Want to know more about these properties? Property details online at JCHA.com then click on Communities, List View & scroll down to the property.
---
APPLICATION OPEN: February 21, 2023
APPLICATION CLOSE: 4:00 pm March 20, 2023
Applications Taken At: Jefferson County Housing Authority (Bessemer Office) 4501 Little Drive, Bessemer, AL 35022.
On Tuesday, February 21, 2023, you may pick up a Public Housing Application from 9:00 am to 12:00 pm & 2:00 pm to 4:00 pm and ending March 20, 2023, or if you prefer print out the application from our website.
Questions: Contact Rowena Gamble at 205.426.8950.
---
Items Needed for Appointment/Interview:
You must call to make an appointment to bring the application back for processing. You MUST have the following documentation WITH you at your appointment. All members of the applicants' family 18 and older must be present at the application interview. We do not accept faxed/mailed applications.
We CANNOT accept an application without proper Identification.
Valid state driver's license, State ID or Military ID for each household member 18 years and older. (Copies are NOT acceptable)
Original birth certificates for each family member (Copies are NOT acceptable)
Original Social Security Cards for each family member (Copies are NOT acceptable)
Marriage Certificate and/or Divorce Decree, Statement of Separation (whichever applies)
Name and Mailing address of current employer
Verification of current income- 3 consecutive paystubs (SS, SSI, TANF, Food Stamps, Child Support, Unemployment, etc.)
Name and address of current childcare provider
Correct names and addresses of current and former Landlords, for the past five years
*No application will be accepted if all required documentation is not submitted at the time of the interview.
APPLICATIONS ONLINE
---
Directions to Bessemer Office:
Take I-20/59 to exit 110 (Alabama Adventure Parkway) turn onto the Parkway going toward Watermark Outlet get in left lane then turn on Prince Street (you will see a sign that says Designer Outlets) turn left. Go to the top of the hill to the "STOP" sign and turn right onto Little Drive. Go one block turn right for office.
(In compliance with Section 504 of the Rehabilitation Act, Jefferson County Housing Authority will provide reasonable accommodations for persons with disabilities ONLY at 3700 Industrial Parkway.)
Date of Notice: 02/01/2023
4501 Little Drive, Bessemer, Alabama 35022
205-849-0123, JCHA.com