03/08/2022
March 11th Healthy Food Box & COVID Clinic Drive-Thru Event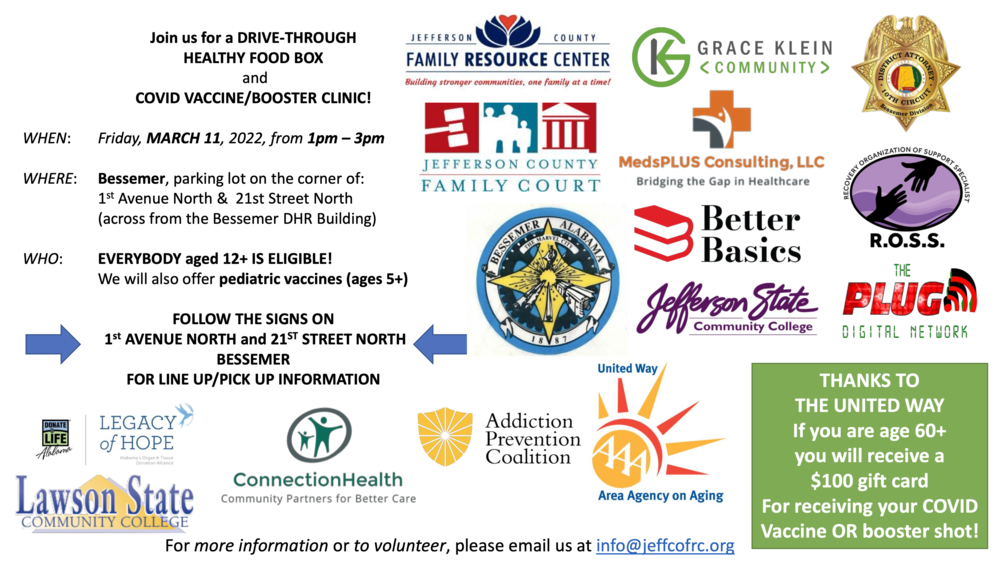 Join us for a DRIVE-THROUGH HEALTHY FOOD BOX and COVID VACCINE/BOOSTER CLINIC!

WHEN: Friday, MARCH 11, 2022, from 1pm - 3pm
WHERE: Bessemer, parking lot on the corner of: 1st Avenue North & 21st Street North (across from the Bessemer DHR Building)
WHO: EVERYBODY aged 12+ IS ELIGIBLE! We will also offer pediatric vaccines (ages 5+)
FOLLOW THE SIGNS ON 1st AVENUE NORTH and 21ST STREET NORTH BESSEMER FOR LINE UP/PICK UP INFORMATION
THANKS TO THE UNITED WAY If you are age 60+ you will receive a $100 gift card for receiving your COVID Vaccine OR booster shot!