February 2020 Garden Gazette Newsletter
For a printable version of the February 2020 Garden Gazette Newsletter (which includes all content as listed below), click here.
---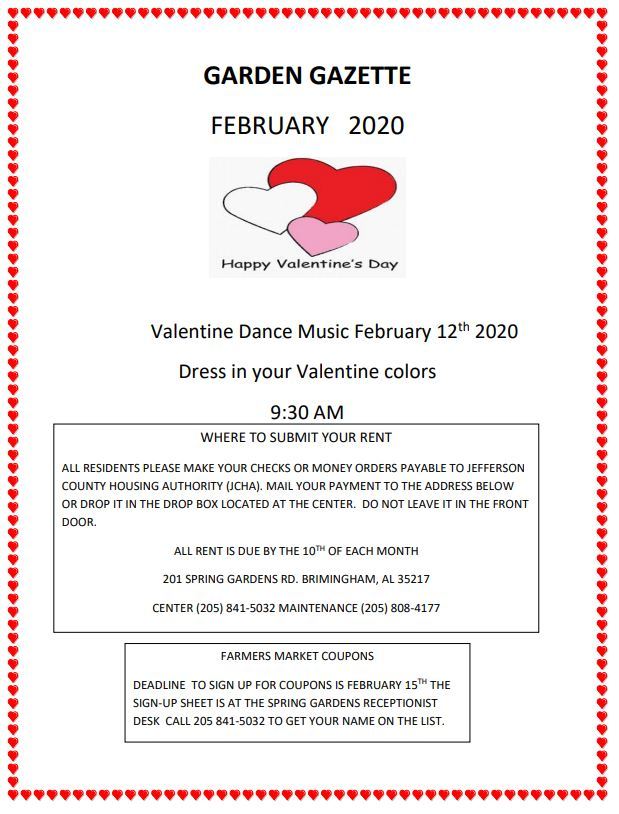 ---
FEBRUARY 2020 GARDEN GAZETTE
Valentine Dance Music February 12th 2020
Dress in your Valentine colors
9:30 AM
---
Where to Submit your Rent
All residents please make your checks or money orders payable to Jefferson County Housing Authority (JCHA). Mail your payment to the address below or drop it in the drop box located at the center. Do not leave it in the front door.
All rent is due by the 10th of each month.
201 Spring Gardens Rd. Birmingham, AL 35217
Center: 205-841-5032
Maintenance: 205-808-4177
---
Farmers market coupons
Deadline to sign up for coupons is February 15th. The sign-up sheet is at the Spring Gardens receptionist desk. Call 205-841-5032 to get your name on the list.
---
All kitchen staff and volunteers must complete the health department food handler course. If you would like to volunteer in the kitchen or dining room contact Annie at 841-5032 ext. 1108.
---
Storm doors
Keep your storm doors latched. If the latch on your door isn't functioning properly notify maintenance, at 808-4177.
There were several doors damaged in the most recent storms. The doors were either not latched or propped open, which causes them to be caught by the wind. It's your responsibility to keep the doors latched to prevent this kind of damage. If damage does occur the cost for repairs, or replacement will be assessed to the tenant
---
JCCEO
JCCEO will be here on Feb. 25th. Applications are attached to your gazette.
Listed below is a list of documents and forms needed to complete an application for liheap assistance. Please refer to the income chart.
You must have copies of all listed documents to receive energy assistance.
If you don't have all copies, of the required documents, at the time of your appointment, you will be turned away. There will be no copies made on the 25th. No exceptions.
SSI/social security letter, pension, va or retirement.
Notarized verification of zero income and a current food stamp certification letter.
Social security card
Picture ID
Your current utility bill
Your current lease
Your completed JCCEO application
Call the center receptionist for an appointment, at 841-5032, Monday thru Thursday between the hours of 9:00 am & 2:00 pm. The deadline for making appointments February 13th at 2:00 pm.
---
February Events
February 3
- 8:00 am - Health Checks
- 10:00 am - Exercise
- 12:00 pm Banks/F'land
February 4
- Pest Control - Pink group
- 10:00 am - Ceramics
- 10:00 am - MUSIC
February 5
- 8:00 am - Health Checks
- 10:00 am - Arts/Crafts
- 10:00 am - Resident Bingo
- 1:00 pm - Corner Market
February 6
- 10:00 am Crafts
- 2:00 pm - True Vine Ministries
February 7
- 10:00 am - Exercise
- 11:30 am - Puzzle Handout
February 8
- 10:00 am - Church of the Highlands
February 10
- 8:00 am - Health Checks
- 9:30 am - Senior Bingo
February 11
- Pest Control - Blue group
- 10:00 am - Ceramics
- 10:00 am - Exercise
- 12:00 pm - Walmart
February 12
- 8:00 am - Health Checks
- 9:30 am - Valentine's Dance
February 13
- 10:00 am - Crafts
- 2:00 pm - True Vines Ministries
February 14
- 10:00 am - Exercise
- 11:30 am - Puzzle Handout
February 17
- Closed - Presidents' Day
February 18
- Pest Control - Green group
- 10:00 am Ceramics
- 10:00 am Exercise
February 19
- 8:00 am - Health Checks
- 10:00 am - Resident Bingo
- 1:00 pm - Corner Market
- 1:00 pm - Jernigans
February 20
- 10:00 am Crafts
- 2:00 pm - True Vines Ministries
February 21
- 10:00 am - Exercise
- 11:30 am - Puzzle Handout
February 24
- 8:00 am - Health Checks
- 10:00 am - Exercise
February 25
- Pest Control - Yellow group
- 10:00 am - Ceramics
- 10:00 am - Music
February 26
- 8:00 am - Health Checks
- 10:00 am - Resident Bingo
- 12:00 pm - Walmart
February 27
- 10:00 am Crafts
- 2:00 pm - True Vine Ministries
February 28
- 10:00 am - Exercise
- 11:30 - Puzzle Handout
---
FEBRUARY 2020 ADSS NUTRITION PROGRAM WINTER 2020
February 3rd - Menu 6
Orange Juice
Three Bean & Beef Chili
Brown Rice
Carrots
Saltine Crackers (4 crackers)
Nutty Buddy
Milk
Margarine
February 4th - Menu 7
Seasoned Chicken Thigh
Diced Potatoes with Bell Peppers
Zucchini & Stewed Tomatoes
Whole Wheat Bread
Peaches
Yellow Cake
Milk
Margarine
February 5th - Menu 8
Ham Macaroni and Cheese
Turnip Greens
Black-eyed Peas
Cornbread
Pineapple
Sugar Cookie
Milk/Buttermilk
Margarine
February 6th - Menu 9
Broiled Beef Patty/Bun
Baked Beans
Potato Salad
Lettuce/Tomato/Onion
Apple Cobbler
Milk/Chocolate Milk
Mayonnaise/Mustard/Ketchup
February 7th - Menu 10
Blended Fruit Juice
Apple Glazed Chicken Breast
Scalloped Potatoes
Italian Flat Beans
Wheat Bread
Fudge Round
Milk
Margarine
February 10th - Menu 11
Orange- Pineapple Juice
Chicken and Rice Casserole
Rutabaga
Mixed Vegetables
Dinner Roll
White Cake
Milk
Margarine
February 11th - Menu 12
Orange Juice
Sausage Patties (2)
Cheese Grits
Cranberry Applesauce
Biscuit
Waffle Grahams
Milk/Chocolate
Margarine
February 12th - Menu 13
Beef Tacos
Seasoned Ground Beef
Shredded Lettuce/Cheese/Tomatoes
Pinto Beans
Corn Tortilla Scoops
Mandarin Oranges
Milk
Taco Sauce/ Sour Cream
February 13th - Menu 14
Beef Hot Dog/Bun
Baked Beans
Cole Slaw
Potato Chips
Onion
Peach Cobbler
Milk
Mayonnaise/Mustard/Ketchup
February 14th - Menu 15
Grape Juice
Sliced Meatloaf/Onion Gravy
Red Beans and Rice
Collard Greens
Cornbread
Vanilla Pudding
Milk/Buttermilk
Margarine
February 17th - Closed
February 18th - Menu 17
Cacciatore Chicken Breast
Garlic Mashed Potatoes
Buttered Spinach
Wheat Bread
Rice Krispy Treat
Fresh Fruit
Milk
Margarine
February 19th - Menu 18
Beef Stroganoff
Italian Flat Beans
Squash Medley
Dinner Roll
Peaches and Pears
Chocolate Chip Cookie
Milk/Chocolate
Margarine
February 20th - Menu 19
Blended Juice
Turkey Tetrazzini
California Blend Vegetables
Wheat Bread
Fresh Fruit
Lemon Pudding
Milk
Margarine
February 21st - Menu 20
Orange-Pineapple Juice
Seasoned Chicken Drum
Mixed Greens
Creamed Corn
Cornbread
Chocolate Cake
Milk/Buttermilk
Margarine
February 24th - Menu 1
Pork Chop Patty/Mushroom Gravy
Roasted Butternut Squash
Black-eyed Peas
Fresh Fruit
Wheat Bread
Apple Spice Cookie
Milk
Margarine
February 25th - Menu 2
Orange Juice
Vegetable Stew
Parslied Rice
Steamed Cabbage
Wheat Bread
Strawberry Fruited Gelatin
Milk
Margarine
February 26th - Menu 3
Apple Juice
Sliced Ham (2 slices)
Parsley Potatoes
Collard Greens
Cornbread
Oatmeal Crème Pie
Milk/Buttermilk
Margarine
February 27th - Menu 4
BBQ Chicken/Bun
Yellow Corn
Diced Sweet Potatoes
Applesauce
Animal Crackers
Milk/Chocolate
February 28th - Menu 5
Grape Juice
Meatballs (5 each)/Marinara Sauce
Spaghetti Noodles with Marinara Sauce
Steamed Green Peas
Texas Bread
White Cake
Milk
Margarine