10/18/2022
Oct 17th Taking Applications for Senior Housing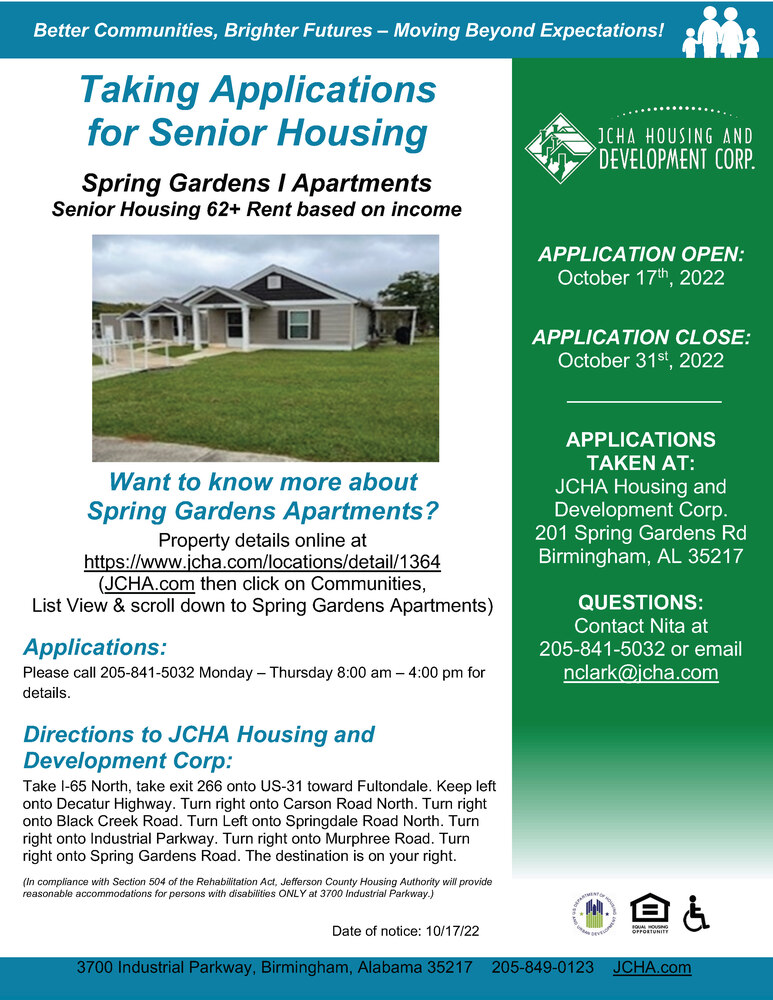 ---
Better Communities, Brighter Futures - Moving Beyond Expectations!
Taking Applications for Senior Housing
Spring Gardens I Apartments

Senior Housing 62+
Rent based on income
Want to know more about Spring Gardens Apartments?
Property details online at JCHA.com then click on Communities, List View & scroll down to Spring Garden Apartments)
---
Applications: Please call 205-841-5032 Monday - Thursday, 8:00am - 4:00pm for details.
APPLICATION OPEN: October 17th, 2022
APPLICATION CLOSE: October 31st, 2022
Application Taken At: JCHA Housing and Development Corp., 201 Spring Gardens Rd, Birmingham, AL 35217
Questions: Contact Nita via email or phone 205-841-5032.
---
Directions to JCHA Housing and Development Corp:
Take I-65 North, take exit 266 onto US-31 toward Fultondale. Keep left onto Decatur Highway. Turn right onto Carson Road North. Turn right onto Black Creek Road. Turn Left onto Springdale Road North. Turn right onto Industrial Parkway. Turn right onto Murphree Road. Turn right onto Spring Gardens Road. The destination is on your right.
Date of Notice 10/17/2022
3700 Industrial Parkway, Birmingham, Alabama 35217
205-849-0123, JCHA.com
---
(In compliance with Section 504 of the Rehabilitation Act, Jefferson County Housing Authority will provide reasonable accommodations for persons with disabilities ONLY at 3700 Industrial Parkway.)