10/18/2021
Oct 19 at 9am Section 8 HCV Accepting ONLINE Applications
JCHA will be accepting ONLINE applications for the Section 8 Housing Choice Voucher Program beginning Tuesday, October 19, 2021 at 9:00 AM through 2:00 PM on Thursday, October 21, 2021.
To apply, please visit https://jeffcohousing.housingmanager.com/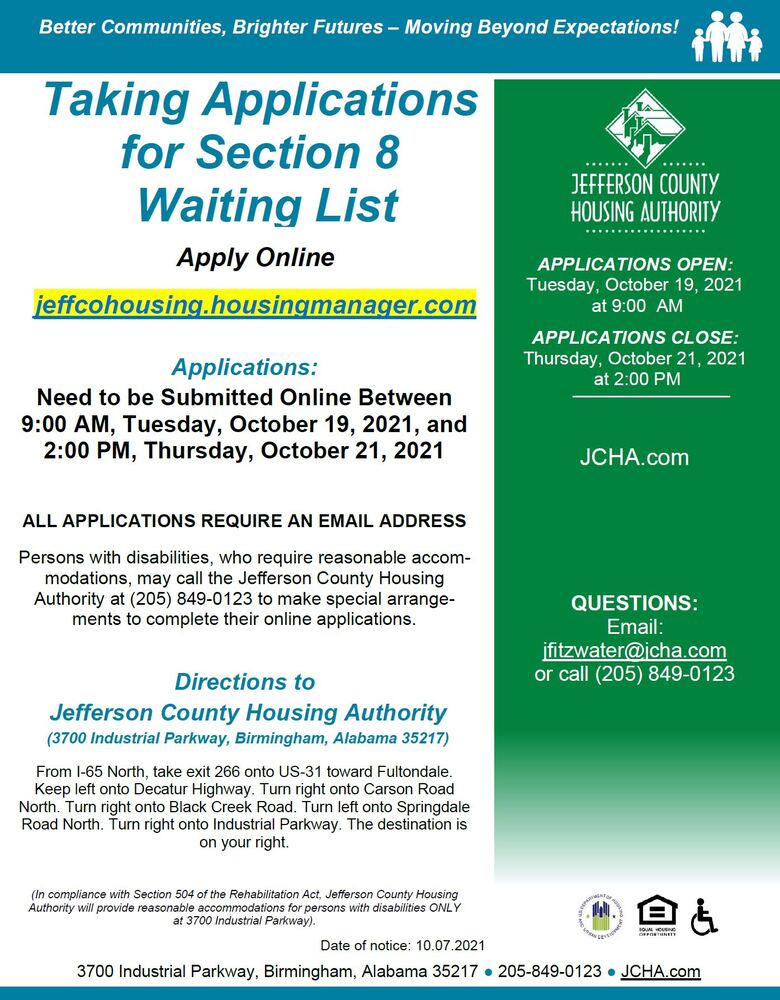 Better Communities, Brighter Futures - Moving Beyond Expectations!
Taking Applications for Section 8 Waiting List
Apply Online jeffcohousing.housingmanager.com
Applications:
Need to be Submitted Online Between 9:00 AM, Tuesday, October 19, 2021, and 2:00 PM, Thursday, October 21, 2021
ALL APPLICATIONS REQUIRE AN EMAIL ADDRESS
Persons with disabilities, who require reasonable accommodations, may call the Jefferson County Housing Authority at 205-849-0123 to make special arrangements to complete their online applications.
QUESTIONS:
Email Jamie Fitzwater or call 205-849-0123
Directions to Jefferson County Housing Authority
(3700 Industrial Parkway, Birmingham, Alabama 35217)
From I-65 North, take exit 266 onto US-31 toward Fultondale. Keep left onto Decatur Highway. Turn right onto Carson Road North. Turn right onto Black Creek Road. Turn left onto Springdale Road North. Turn right onto Industrial Parkway. The destination is on your right.
---
(In compliance with Section 504 of the Rehabilitation Act, Jefferson County Housing Authority will provide reasonable accommodations for persons with disabilities ONLY at 3700 Industrial Parkway).
Date of notice: 10.07.2021